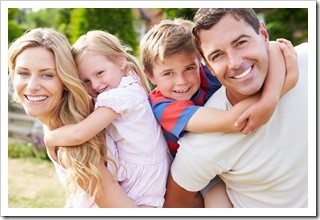 Very soon Chiropractic will be celebrating another birthday.  For over a century of success Chiropractic has been helping people of all ages regain and retain their health.   Chiropractic is now the health care of choice for millions of parents and their children throughout the world. We are proud to do our part as our community's pro-active health solution!
What Do We Do?
As Chiropractors, we are specially trained to locate and release deep stress and blockages in the body that create dis-ease, which can lead to lowered resistance, poor posture, pain, and physical and emotional illness.
Most people already know that we can help their families with a wide spectrum of problems, from headaches to back pain to breathing and digestive disorders and much more.  But what most families don't realize is that the best use of chiropractic care is as health and wellness care, to keep your body working at peak efficiency instead of waiting for painful symptoms to occur.
This modern approach to health care, to be proactive and pursue good body function rather than waiting until illness strikes, can save considerable suffering, and also considerable money – it costs less to keep yourself healthy than to get healthy once you have gotten sick.
Chiropractic is Safe, Gentle and Effective.
Chiropractic is the fastest growing drugless healing profession in the world today, serving over 2,000,000 people every day. Chiropractors maintain the lowest malpractice insurance rates of any primary health professionals in the world, which is a tremendous credit to the safety record throughout the entire chiropractic profession. People who are under regular chiropractic care are among the healthiest people in the world, requiring far less hospitalization, medication and medical doctor visits.
Chiropractic Works for All Ages!
Spinal misalignments can begin at birth and progress throughout life. Interruption to proper nerve flow can affect your overall health. Healthy cell metabolism, organ function and sharp mental focus are all jeopardized by decreased nerve flow.
Correcting spinal misalignments greatly improves the body's ability to regain optimal health. It's common to see whole families choosing chiropractic because no one is ever too young or too old to obtain a healthy nervous system for life.
If you have any questions regarding how you or someone you care for can benefit from Chiropractic care, call us and schedule a consultation.


For Your Health,

Dr. Larry Lubcke